JULY 2017:
---
Register Now!
2nd Annual

Women's Self-Renewal Retreat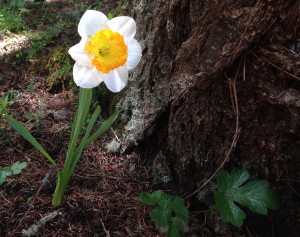 The Healing Sanctuary, July 28-30, 2017
Sign up by SUNDAY, JULY 23  for "Busy Bee" pricing, (see below)
 A few comments from last year's participants:
"An amazing unplugged weekend to come home to my Self"
"Food was delicious!!!"            "SOOO renewing!!!"
"An amazing, conscious group of women. Expertly facilitated."
---
What is a Self-Renewal Retreat?
 It's an opportunity to step back from life's incessant, daily demands and to reflect upon and renew your sense of connection or identity as your "Higher Self," your essence. In this world of nearly constant doing, this retreat affords many opportunities to simply "be."
We will find a balance of relaxed doing and mindful being through:
Sound healing (hands on time with more than 30 crystal singing bowls, toning, etc.)

Guided meditation/journeying

Yoga and Edgu

Journaling

Time communing with Mother Nature

Creative expression via various simple art forms

Playtime! (Yep, like kids do!)

Hot tub soaks and fire pit magic

Connection and alone time

Rest and renewal

We will honor the powerful Divine Feminine within us. We'll blend the richness of group interaction and sharing with plenty of alone time. We'll be sacred and silly, structured and spontaneous. (ALL activities are optional. This is YOUR time to do what you most want and need to do – or not do!)
We'll have yummy, healthy meals, and options of hot tub soaks, nature hikes, fire pit gazing/singing, lounging in the hammock or strolling in the garden picking strawberries, ripe tomatoes, flowers… Or just sitting under Luna, the giant sequoia who graces the front yard of The Healing Sanctuary. We will be the peace we wish to see in the world.If this speaks to your soul — as it does mine! — please consider joining us.

I know this is going to be another powerful energetic gathering. If it's calling to you…
See below for registration and details, then contact me.
"Busy Bee" pricing through SUNDAY July 23rd.
---
REGISTRATION DETAILS for Women's Self-Renewal Retreat
     The Healing Sanctuary, July 28-30, 2017
When:           Friday, 6:00 pm, thru Sunday, 4:00 pm
Where:          The Healing Sanctuary — approximately 15 minutes SW of Eugene, Oregon. Exact directions provided after registration phone call.
Who:              Nancy Hopps and an intimate group of previous and yet-to-be-met friends who are called to be here.
Why:              Because…. it's needed. (See description below.)
How much: $195 by July 23; $225 after July 23, space permitting. (Partial work or pay-it-forward trade may be available. If money is an issue, call me.  Please.)
What:           Price includes snacks on Friday eve; breakfast, lunch and dinner on Saturday, and breakfast and lunch on Sunday. And plenty of snacks!
 It also includes all activities — Yoga, Edgu, art supplies, hands-on crystal bowl opportunities(!), hot tub use, etc.
And lodging. (Yep, it's a very good deal!) You will be treated to "cush-camping" (plenty comfy) accommodations.
A lovely and convenient tenting area will be prepared and awaiting your arrival. Our gear or yours will be decided when you call to register. We have a limited number of tents, futons, pads, cushions, and other comfort-inducing camping equipment to make your outdoor sleeping experience one you will remember fondly. But it's on a first-come basis, so call soon!
(NOTE: The only way I camp these days is if I create a super-comfy nest, so we'll make sure your "nest" is comfy, too! We also may have one or two indoor spots available. Just let me know your needs, preferences or concerns when we speak.)
Other details, let's discuss verbally. TO REGISTER, please call me at 541-913-9784. If I don't answer, leave your name and number clearly(!) and the best time to get back to you. Tell me if you are calling to definitely register or simply to inquire, since it will fill on a first-come, first-call basis. I'll get back to you promptly.
Since this is my home and sanctuary, I will be speaking with all registrants before sending out directions and final details. I am very excited to be offering this again. It was nothing short of wonderful last year. I know that the people who are meant to be here this year will be here. Are you one of them?  
If you would like more information, please contact nancy@nancyhopps.com.
Or better yet, call me at the above number.
---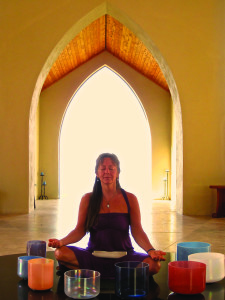 CRYSTAL SINGING BOWLS,
TONING, GUIDED MEDITATION & ACTIVATION
with NANCY HOPPS
A powerfully joyful, deeply renewing experience.
Sunday, July 19, 2017
Bear Paw Yoga Studio
107-8200 Bear Paw Trail (Rainbow Development )
Whistler BC V0N 1B9
Call 604.902.4742 to reserve. Tickets $20 at door, space permitting.

BE the change you wish to see in the world. 
---
  A limited number of private sessions available.  Please contact Nancy here.
---