New Year, New Paradigm
A 5-week transformational experience to support you in (finally!) putting your spiritual practice front and center
and elevating your consciousness to serve the highest evolutionary good.

How's that for a challenge? Lofty? Yes! Incredibly time-sensitive? Yes!! Doable? Yes!!!
Does something in your being come alive as you read the title/subtitle? Do you know you're ready for big, transformational changes? (In fact, you're feeling huge personal shifts happening already.) Are you ready to co-create 2022 from a vibration of Love, not fear?
OR – maybe…
Although these words ignite some sort of spark deep inside, the promise of "higher visions" feels very, very far from what you're currently experiencing.
Perhaps you've felt something like this in the collective consciousness recently:
It could be described as a dense, fear-based energy vortex – like an energetic quicksand that easily erodes your usually solid sense of self, shakes your spiritual foundation, and pulls you down into the muck of a lower vibrational frequency.
Once succumbed, it feels really hard to climb back out into the Light. You want to shift, to choose love, to feel like your normal, happy, empowered self, you know you do… But right now there's WAY TOO MUCH craziness. And shifting back to feeling good and light and at peace (!) just sounds impossible – like a bunch of New Age BS – 'cuz this is what feels real right now!
Most everyone, especially those of us who are highly sensitive and empathic, has felt this sort of reaction to all the chaotic energy in the world, at least in certain moments. Sometimes you just feel the weight of it all. I know I sure have!
But I believe there's a Bigger Picture unfolding here.
The Spiritual Gauntlet has been thrown: Are we ready to take it up? Are we, as individuals and as a species, really willing to step up to the plate? Are we willing to commit to our Highest Path, to integrate the practices, beliefs and the Love we know is always available, to transform the disharmonious frequencies that seem to be running the collective show these days?
If you're like me, your deepest heart and soul respond with a resounding, "Yes!"
This "YES" in my deepest heart is what motivated me to create this offering. I want to challenge you, as part of a group of like-minded/hearted individuals, to "step it up" – to join me in elevating our consciousness, visions, beliefs, habits – in taking the next steps along our respective spiritual paths toward "being the change" we so desperately need in the world.
"I want to be a living example of what's possible."
If you resonate with this, please consider joining me.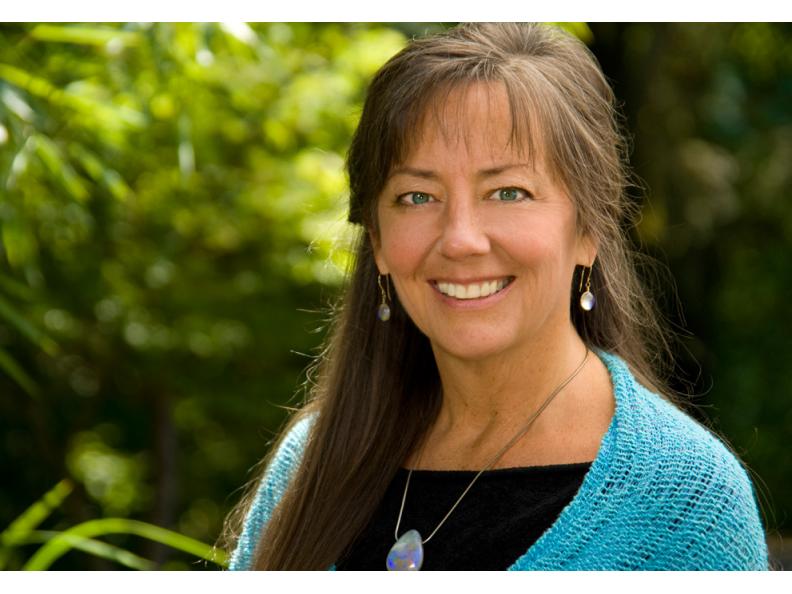 By WEEK 5, you'll have shifted in consciousness, created new habits, established new practices and be engaged in a supportive online community.
You'll be living in closer harmony with your highest ideals.
Now, you may be thinking,
"I always say my spiritual life comes first. But I can't even get myself to sit down for 15 minutes and meditate!"
"I have some habits I feel ashamed of, yet for whatever reason, I can't seem to change them."
"

This sounds great, but I'm WAY too busy, under too much pressure right now to do this – maybe after ________ [fill in the blank!]"
or…
I've tried so many other approaches that failed to produce lasting changes. Why should I believe this time will be different?"
---
All important points.
You have my compassion –I know the stress of time pressure and self-sabotaging habits. And, it's SO frustrating to "try" and "fail," again and again.
(Fact – research shows only about 5% of typical "New Year's Resolutions" are successful. So, you're not alone!)
And, honestly, this course is not a "quick fix" solution. I'm appealing to those of you who've consciously signed on for a lifetime of spiritual learning. But research also shows it takes about 28 days of consistent focus to establish a new habit. We will be supporting each other through that process. You don't have to navigate your journey all alone.
---
What's unique about this course?
We'll be utilizing the power of ancient arts and emerging sciences, like sound healing and neuroplasticity.
We all have goals and aspirations, and I want to support you in bringing yours to fruition. This course, however, is different than many other offerings because first and foremost we'll be focusing on making very specific and profound inner changes – changes in consciousness, changes in our resonant energy fields – so that you can also, then make the desired changes on the outer level – like:
really committing to your yoga / fitness / weight loss program this year
being more present and available in your relationships
reaching your business or financial goals while maintaining ease and balance
stepping up in a big way to do what you're here to do

Quantum physics and ancient spiritual teachings all validate this is the ONLY way to change the manifest world. And change it we must.
Here's what Einstein had to say about all this:
"A problem cannot be solved from the
same consciousness level in which it was created."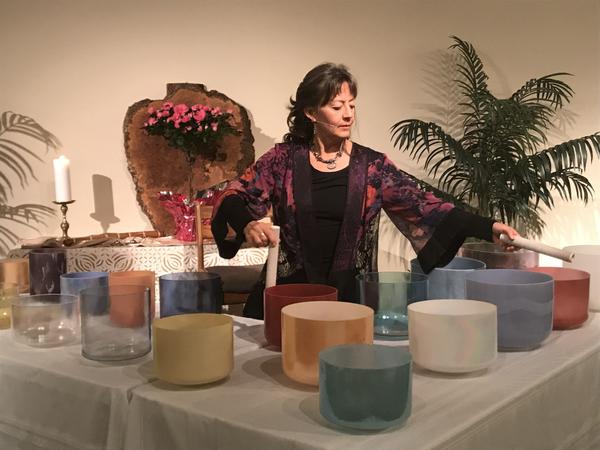 Why trust me to lead you in this sacred process?
After undergoing life-changing spiritual awakenings at age 21, I've been leading clients and groups through this kind of inner work for over 4o years now.
In this course, I'll be drawing from my experience in many modalities, including mindfulness meditation, non-denominational prayer, cognitive therapy, sound healing (and other forms of energy healing), interactive guided imagery, neurolinguistic programming, shamanic work, hypnotherapy, spiritual- and life-coaching methods. But of all the modalities (these and others) that I utilize, beyond a doubt…" the greatest of these is Love." I truly, deeply, passionately love people! We are AMAZING beings!
When asked what I do with clients, my answer is usually something like this: "First and foremost, I love them. I help guide them back to Source, where all healing begins."
May I have the honor of helping guide you back to Source?
Like a traveler stopping at a roadside inn for rest, renewal and nourishment, we'll create a sacred, renewing space together during our time together. We'll each emerge ready, recharged – and yes, transformed – for the "New Year, New Paradigm" ahead.
If not now, when? What's more important than your spiritual awakening?
We are at a critical juncture in collective consciousness.
Consciousness evolution is at a point now where it's imperative we come together and support each other energetically. Whether you resonate with this course offering, or you find other ways to support your journey, I encourage you to follow the inner prompting in your heart. It will surely lead you Home.
---
Professional endorsements of Nancy's work: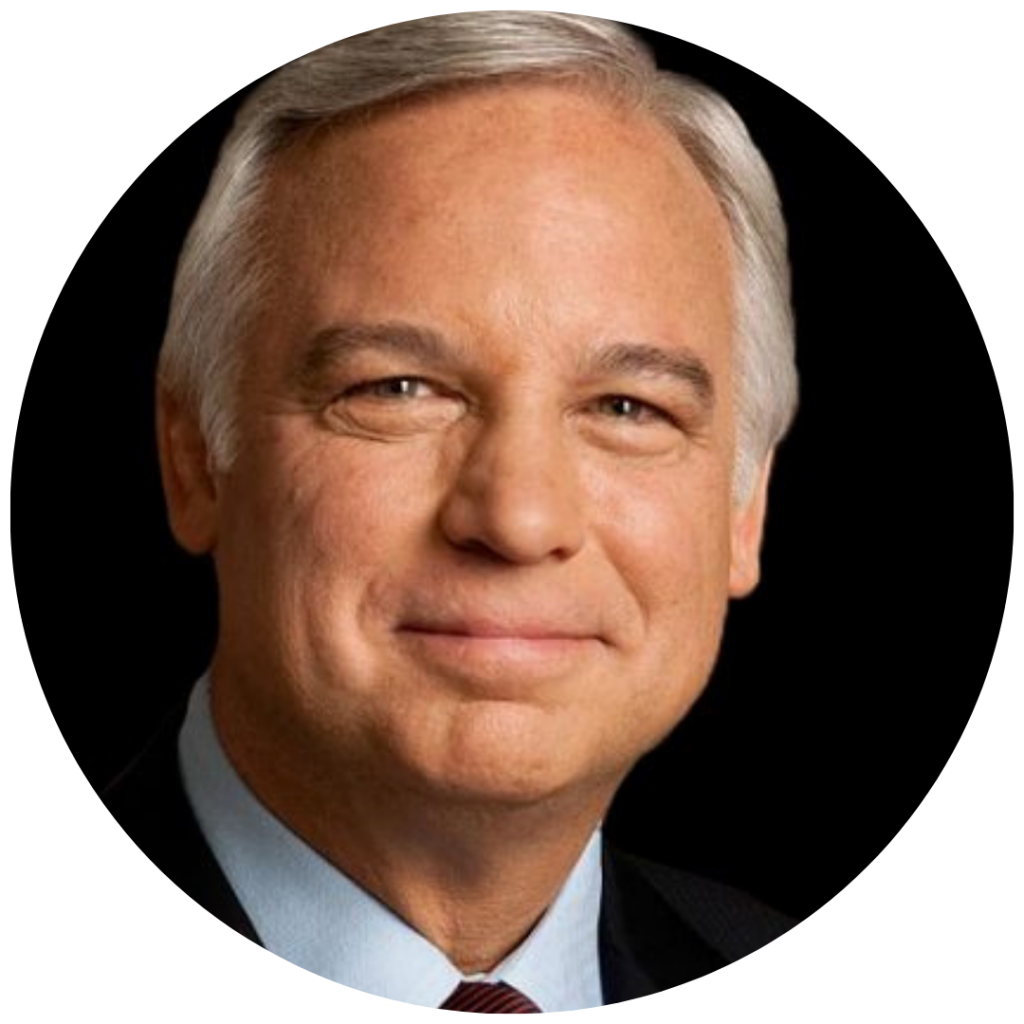 "Nancy's work is very impressive. Material of this quality and integrity is rare."
– Jack Canfield, Author, Chicken Soup for the Soul, The Secret
---
"Nancy is a gifted healer and artist whose personal and professional experience make her highly-qualified to assist with many aspects of mind-body healing. I'm sure you will find her compassionate guidance healing on many levels."
– Jan H. Stafl, MD, Member, Board of Trustees American Holistic Medical Association
---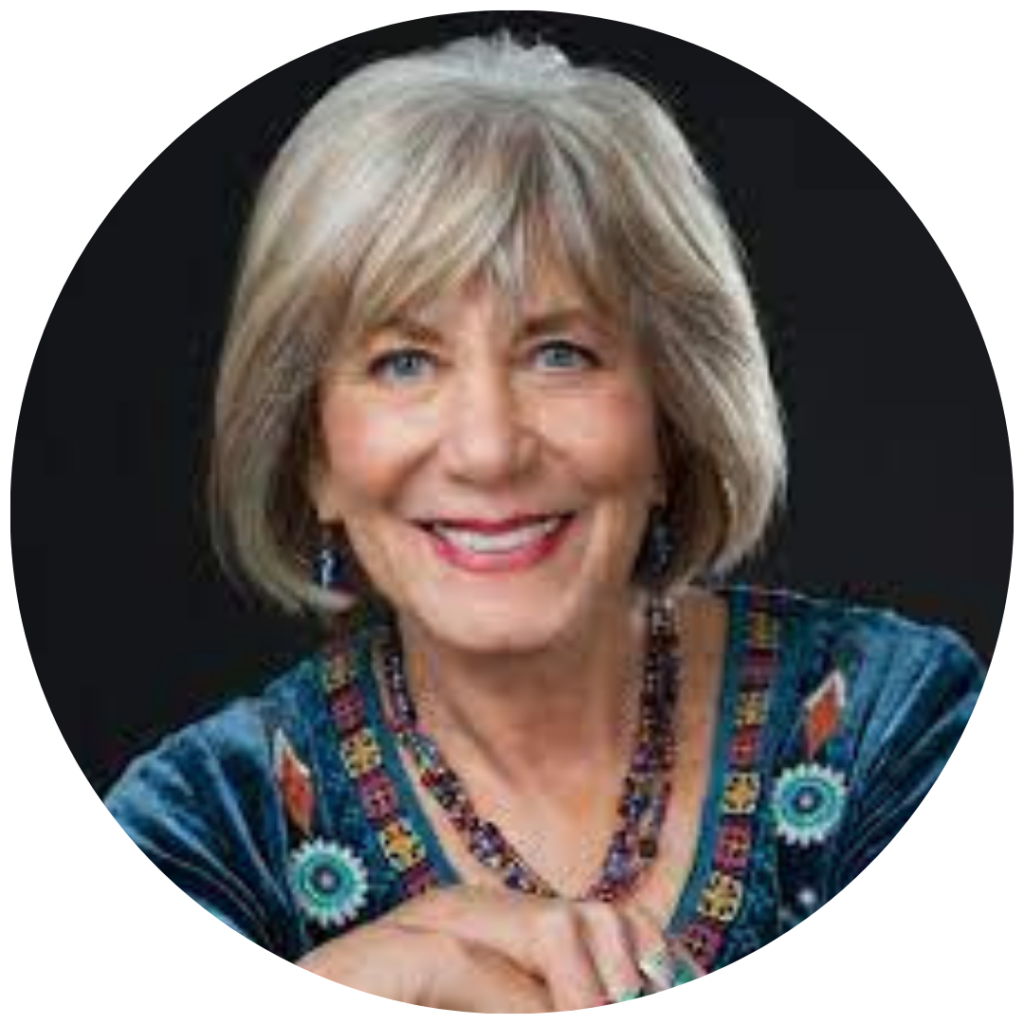 "I highly recommend Nancy's work as an excellent foundation for bodymind health and healing…"
– Joan Borysenko, Ph.D., Author, Minding the Body, Mending the Mind; The Power of the Mind to Heal
---
"The quality and integrity of your work is impressive, and obviously from your heart and soul…Thank you…"
– Carol Campbell, RN
---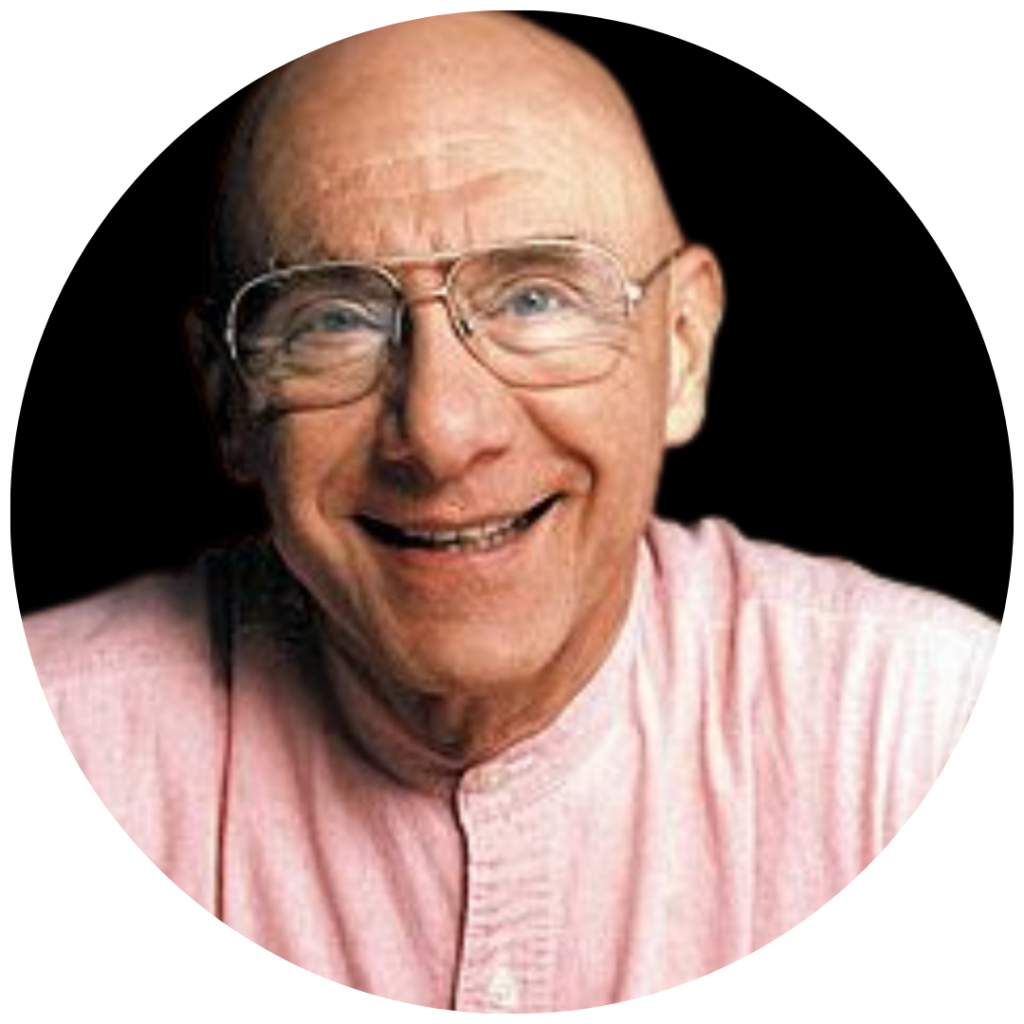 "…Keep on inspiring life!"
– Bernie Siegel, M.D., Author, Love, Medicine & Miracles, and founder, ECaP (Exceptional Cancer Patients) Center
---
Testimonials – what folks have to say about working with Nancy:
"I called Nancy after a terrifying PTSD flashback… I've joked that I went to her for "spiritual urgent care," which is very true, but I stayed on because I felt Nancy had offered a glimpse into a much happier and fulfilling life." – Linda M..
"When I'm with Nancy, I get to have all my feelings – I grieve…I get to be scared, and I get to feel hopeful, and grateful… She's helped me to embrace this whole experience, this whole journey…. She's given me hope, at a time when I didn't feel like there was hope… – Bonnie L.
"Nancy has a very unique capacity for real Love. I mean, as taboo as that is to talk about [within certain clinical therapeutic professions], it is what 's made the difference for me. – Jason V,. Clinical Psychologist / abuse survivor
"I did a private crystal bowl sound healing session with Nancy and it was the most profound experience I've had in my life. Her gentle, flowing and intuitive approach helped me to relax and connect with the deepest parts of myself. I experienced spatial sound and felt the vibrational frequencies beyond our physical reality. Nancy is a multitalented healer and her capacity to fully embody sound healing is exceptional. Her feminine, loving, warmhearted personality is a gift to this world." -Lauri Poldre, Estonia
"…the singing of the bowls combined with the gentle breath and whisper of a bamboo nose flute carried me to a new level of Self that words cannot describe. It can only be felt, and only if judgment remains outside with your shoes. – Achilles Massahos, Eugene, OR
Experiencing your crystal bowls was one of the most powerful, emotional, beautiful, (I could go on & on!) soul-pleasing moments of our lives. We can't thank you enough for sharing your precious gifts. – Valerie and Doug, San Diego, CA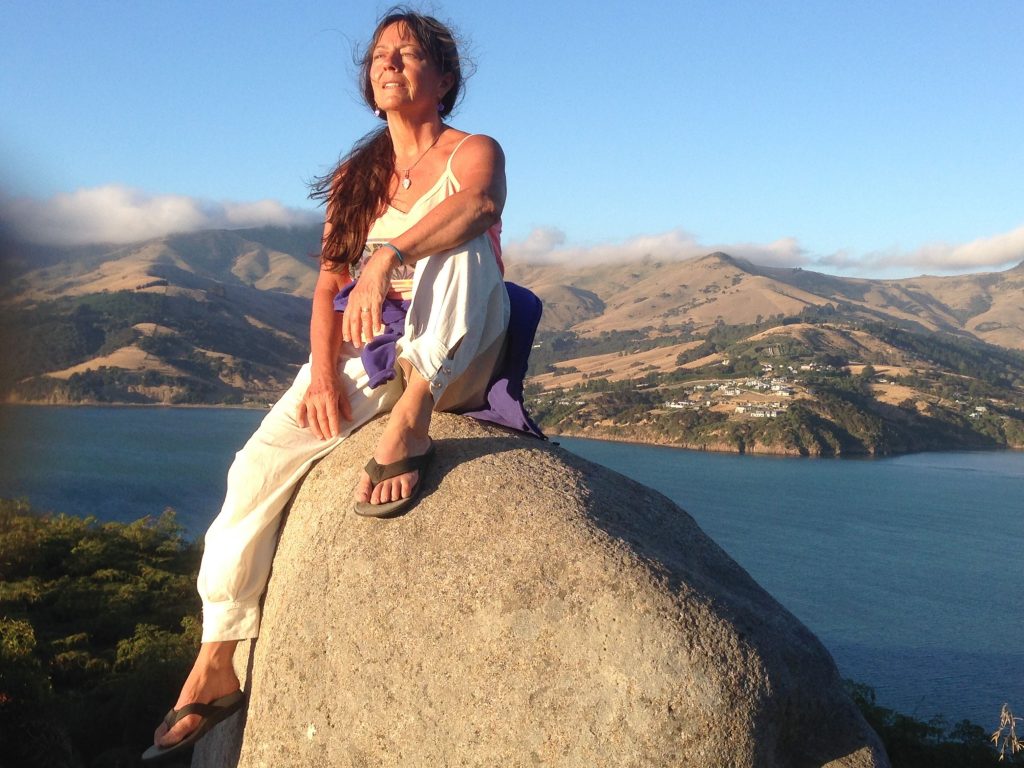 What other benefits might I expect from this course?
If you commit to integrating these simple practices, techniques and principles into your daily life during this 5-Week Challenge, I feel confident you will experience many benefits, including…
Benefits for your MindBody…
the joy of deep, profound relaxation and a growing sense of ease and clarity
countless physiological benefits, including lower blood pressure, decreased heart rate, strengthened immune system etc.)
mental/emotional resets – release of chronic anxiety and over-stimulated vagal nerve functions – switching from survival mode to a calm, creative flow state
release of energetic blocks (including other people's energy you may have taken on)
a greater sense of empowerment and peace, regardless of outer circumstances
a renewed sense of trust and well-being, and…
Benefits for your Spirit…
activation to higher frequency levels and states of awareness
remembering who You really are.
opening to Higher Guidance (on a particular issue, or in general)
clarity and purpose regarding the next steps on your spiritual path
on-going support within a like-minded/hearted community
experiencing life's joys, Synchronicities and Magic more fully
Divine Spirit (call it what you will) will be the Guiding Force
behind the actual energetic flow of the course (as it always is in any work I do.)
The specific content of the course will be informed by the answers
you and other participants provide on the registration intake forms.
---
That said, here's an approximate overview of weekly content:
Each week…
We'll begin with a centering meditation. This will immediately shift us into an open, relaxed, receptive, synergistic energetic state. (We'll also close with a meditation, to carry the energy/intentions on into your week.)
We'll integrate the power of sound healing (including my crystal singing bowls, over-toning, etc.), and experience how it expediently and elegantly shifts consciousness. And you'll learn simple ways to use sound healing in your own life.
I'll share other techniques you can use daily for shifting into a more centered, relaxed, higher vibratory state of being, like… advanced breathwork, mindfulness, moment of choice awareness, reprogramming techniques, etc.
We'll discuss and learn how to integrate several of my signature "Bottom Line Spiritual Truths" (BLSTs)– foundational principles gleaned from my 4o+ years of professional and personal experience.
Here are a couple of examples of my BLSTs:
"I choose to make my love (and passion) stronger than my fear (and limiting beliefs).
"I can only operate in accordance with the beliefs I hold about myself."
---
Each week I'll combine teaching and information with experiential practices for you to implement during the upcoming week. There will be opportunities to interact with your fellow students, as well as Q&A and coaching through blocks that may arise as we move through the weeks together.
In addition to the ongoing Higher Consciousness experiential elements,
here's a rough outline of each week's content theme:
Week 1 – The Paradox of Total Surrender and Full Personal Responsibility
Week 2 – Feel Those Neurological Pathways Being Formed!
Week 3 – "Whipped Cream on Horse Manure."–Reprogramming that works!
Week 4 – Is Life Happening "To Me, By Me, Through Me, or As Me?"
Week 5 – Love is All There Is – New Beliefs, New Habits…New World!
---
Is all this stirring something inside? If so, I invite you to join me.
We'll begin on Thursday, January 20, 2022.
4pm PST / 7pm, EST
And yes, there will be recordings if you have to miss a week. But because of the purposefully small group size and the nature of this intimate, interactive learning opportunity, I ask that you sign up with the full intention of attending every session live if at all possible. (Community is precious and powerful, and your commitment and live presence will benefit each of us – especially you!)
EXTRA BONUS OFFER:
60-Minute Video Program
New Year, New Paradigm – Co-Creating 2022 From a Vibration of Love
Alchemical Crystal Singing Bowls, Toning, Guided Meditation and Activations for the New Year
Sign up now, and you'll receive a link to this BONUS video within moments. This powerful hour-long sound healing program is yours to experience right away, or at your convenience, with my heartfelt blessings for the New Year.
---
NANCY HOPPS is an internationally recognized healing and performing artist. Her award-winning Relax Into Healing recordings and presentations have profoundly benefited thousands of listeners worldwide. As a sound healer, the frequencies of her alchemical crystal singing bowls, bamboo nose flute, over-toning and guided meditations create a truly transcendent experience. Of all the healing modalities Nancy integrates into her life and work, she whole-heartedly believes, and demonstrates, "the greatest of these is Love."
REGISTER HERE
When you register, I'll send you a confirmation email with logistical details, your "bonus" video sound healing program, and a PDF for you to fill in right away and email back to me. I'll ask you a few leading questions to help get the juices flowing and intentions clarified. I'm keeping the group small, so that it can be a safe, intimate, interactive experience.
I want you to come away from these 5 weeks knowing you have made profound shifts in consciousness, and that you have the tools and techniques to keep moving along the ascending spiral of spiritual transformation, while realizing your goals and visions here on this physical plane.
Cost of the 5-week, 90-minute sessions:
"PLUS" Level

Also includes a 60-minute private session to be scheduled during the 5-week period.
I don't often offer private sessions these days, so this is a unique opportunity if you'd like to go deeper
with me one-on-one, at a special price. (Limited number of spots available.)
Guarantee
If after the first meeting you feel this is not for you, I'll happily refund your investment. I want you to feel fully committed, safe, in resonance and like it's exactly what you were asking for.
---
I leave you with one of my all-time favorite quotes, which I have framed above my desk:
Until one is committed there is hesitancy,
the chance to draw back, always ineffectiveness.
Concerning all acts of initiative (and Creation) there is one elementary truth,
the ignorance which kills countless ideas and splendid plans:
The moment that one definitely commits oneself, then Providence moves too.
All sorts of things occur to help that would never otherwise have occurred.
A whole stream of events issues from the decision,
raising in one's favor all manner of unforeseen incidents and meetings
and material assistance which no one could have dreamt would have come your way.
Whatever you can do or dream you can, begin it.
Boldness has genius, power and magic in it.
-Goethe