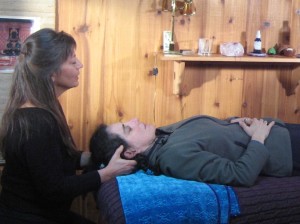 As a Licensed Massage Therapist (LMT#10473), Certified Sound Healer and HypnoTherapist, Nancy intuitively draws from an extensive background in various healing modalities, including (but not limited to)  sound healing (alchemical crystal singing bowls, toning, bamboo nose flute, tuning forks, etc.), mindfulness-based meditation, stress-management/deep relaxation, deep compassionate listening, breath work, therapeutic massage and body work, cognitive behavioral therapy, interactive guided imagery, affirmation, non-violent communication (NVC) neurolinguistic programming (NLP), emotional freedom technique (EFT),  bio-resonance therapy (and other energy medicine and energy psychologies), "talk therapies," prayer, and last but certainly not least, the healing power of Love.  She also draws from her practices of CoreYoga+ and EDGU, as well as her varied background as a performing artist…which lends valuable insights in many healing situations.
Happily, much of the work Nancy does tends to defy labels.* 
While acknowledging the value of this eclectic background, she credits her spiritual practice as her most significant "training", and the incomparable healing power of Love as her most valuable "tool".
When asked "What do you do when you work with people?", Nancy's response is, "Whatever needs doing."
"Most importantly," she adds, "I offer myself as a Vehicle to guide the client into their own inner knowing. In this place of relaxed clarity, the growth or healing they're seeking occurs in the most appropriate, expedient, elegant, and sometimes seemingly magical ways. I feel deeply honored when I'm able to assist a client in their journey to Self…witnessing someone remember who they truly are, being in the transcendent place with them, is an indescribable joy."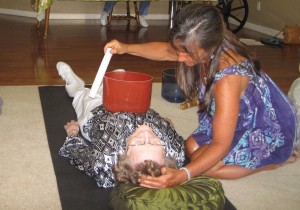 HOW DO I SCHEDULE A PRIVATE SESSION?  WHAT IF I HAVE QUESTIONS?
If you'd like to contact Nancy about the possibility of a private session with whatever emphasis is appropriate for you, please use the contact form to make initial contact. Be sure to  include your phone number and the best time to reach you. Nancy maintains a limited private practice in the Eugene area, but also does phone consultations, and often books private sessions during professional travels. Feel free to contact her with any questions or concerns.
I think you probably knew just how much I needed that time with you yesterday. I have not cried that long and hard with anyone but [my husband] in probably 25 years. So much release…so much insight and healing happened. I have been tired today … but so much calmer. So thank you for being such an amazing being, for offering such a safe space for me and for shining your loving heart and facilitating such deep healing. You are a wonder.
—T.H., Eugene, OR
For other comments from past clients, click here. For sessions primarily focused on sound healing, click here.
---
*Note: As Dr Jose Ochoa (at the time head of the Neurological Science Center at Good Samaritan Hospital in Portland, Oregon) wrote in the chart notes of one of the patients he had referred to me: "Ms Hopps is non-traditionally educated." (I love that!) I was, in this and several other cases he referred to me, getting results that more "traditionally-educated" physicians and other medical practitioners had been unable to achieve in cases of Reflex Sympathetic Dystrophy (RSD – also known as Complex Regional Pain Syndrome.)  See Articles – And the Greatest of These is Love, for a peer-reviewed, in-depth case study.  
Dr. Ochoa is an example of a highly-regarded allopathic physician who was able and willing to "think outside the box" and seek other adjunctive healing modalities in the higher interest of particular patients. He was ahead of his time in this collaborative healing approach, and I – and the patients he referred to me – will be forever grateful to him. Sometimes, indeed, "it takes a village."