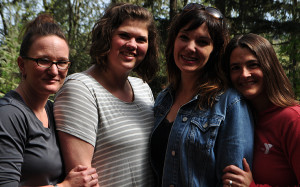 I recently spent a powerful afternoon with a team of powerful women — staff members and team leaders of the new LIVESTRONG at the YMCA program. They had just "graduated" their first class members, which was the launch of a whole new and ever-so-important program to support cancer survivors in their ongoing body/mind/spirit healing.
As a cancer survivor myself, and having worked with many, many clients (and friends and family members) as they navigated their cancer healing journeys, I have come to learn how essential it is to have support during the oft-neglected re-entry phase.
So often, those dealing with the cancer experience receive overwhelming support during the initial phases of diagnosis shock and treatment, but once declared "done" or "in remission," these same folks are often left feeling as if the party's over and everyone's gone home… and the "hosts" are left standing alone and exhausted in the midst of a messy aftermath, which is now theirs alone to deal with.
To complicate things further, the person standing there most often has a very shaky sense of who they even are anymore!
You don't go through a life-threatening illness without coming out a changed person. This is a huge aspect of the healing journey that I feel often goes unnoticed, and therefore, for the most part, remains largely unsupported.
So hooray for programs like the nationwide LIVESTRONG at the YMCA program! Having support to get your physical body back in shape is extremely helpful. But more than that, having a chance to come together with others who've just been through a similar experience is invaluable.
In the course of strengthening and renewing the body, a wonderful thing happens: You begin to realize that all those fears and self-doubts and little secret things you've been feeling as you lie there awake at night — like, perhaps, an unnamable sense of shame — are not weird, or wrong, or even unique; that others share the same or similar feelings. And what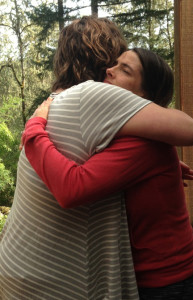 a relief it is to bring them into the light of day in such an organic, non-threatening way. And begin to heal not only the physical body, but also the mental and emotional body, and the spirit.
To take on the challenge of guiding this process as a facilitator, to create an atmosphere in which this sort of healing can happen in its own unique-to-every person-and-every-group way, takes courage. As a
counselor/healer/facilitator, I know how difficult it can be sometimes to just
keep showing up, prepared as possible on one level yet, most importantly, knowing the best preparation you can make is in learning how to let go and let a Higher Power guide the process.
So, it was such a joy and privilege to watch this group of women take on this awesome and sometimes overwhelming project, give it their all, learn by doing, and have their hearts expand exponentially as they connected with the lovely people in their inaugural group. As much as they gave and helped change the lives of the participants, it was obvious that they received at least that much from their charges. And these ladies are forever changed.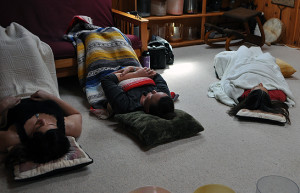 They came out to The Healing Sanctuary the day after graduating their first group in order to take a break and integrate their experience. We talked a bit, raised a toast, and then retired to my session room, where we shared a renewing hour or so of guided meditation and crystal singing bowls. Prayer and intention, vibratory resonance and a little Magic came together to "heal the healers" in a lovely and powerful way.
That evening, I received an email from Kari Porter, senior director of the Healthy Living Program at the Eugene YMCA:
"I can't thank you enough for this lovely afternoon. It was a true treat for this team of women to come together, away from our work and take the time to relax, reflect, re-build, renew, let go… Your home and sanctuary is an amazing space. Thank you for welcoming us in and for opening your heart to us."
And thank you all for further opening mine. We are, indeed, all in this together.