SEPTEMBER 2018:


Women's Self-Renewal Retreat
at The Healing Sanctuary
September 14-16, 2018



Early Bird Pricing: $195 thru August 20th.




$225 after August 20th.
What is a Self-Renewal Retreat?
It's an opportunity to unplug, to step back from life's incessant, daily demands, to renew your sense of connection to a Greater Whole, to come home to the essence of your being.
I don't know anyone who's not being deeply affected by the intense socio-political-environmental goings-on that incessantly bombard our consciousness. It's difficult, as a compassionate, caring, intelligent person not to get sucked into the myriad dramas being played out on the national and global stages these days.  It's imperative that we stand for what we believe in, speak our truths, take action as we feel prompted to do.  
And yet, it's also imperative that we take time out.  To renew, to re-center, to re-charge. To regain some perspective. To remember that we can't be an effective vehicle for change and a much-needed support for others if we ourselves are drained. Sometimes we desperately need to take a break from "doing"…..to give ourselves a chance to simply "be."
This retreat affords many opportunities to simply "be." We'll create a balance of relaxed doing and mindful being through:
Sound healing
(with over 30 alchemical crystal singing bowls, toning, etc.)

Guided meditation/journeying/activations

Time communing with Mother Nature

Morning Yoga and Edgu sessions

Journaling

Creative expression via various art forms

Playtime! (Yep, like kids do!)

Rest and renewal
We will honor the powerful wisdom within us. We'll blend the richness of group connection, interaction and sharing with quiet, alone time. We'll be sacred and silly, structured and spontaneous. We'll have yummy, healthy meals together, with options of hot tub soaks, nature hikes, fire pit magic, lounging in the hammock or strolling in the garden picking strawberries, ripe tomatoes, flowers… Or just sitting under Luna, the giant sequoia who graces the front yard of The Healing Sanctuary. We will BE the peace we wish to see in the world.
For more information, please contact me via email.
TO REGISTER, please call me at 541-683-9088
(or

text

me if you're on my mailing list and you got my email!)
Space is limited. "First-come" basis.
---
Alchemical Crystal Singing Bowls
Toning, Guided Meditation/Activation
with Nancy Hopps  
A powerfully joyful, deeply renewing experience.
During these times of great change and upheaval, it's imperative to keep choosing love, to keep raising our vibrational levels to maintain a sense of harmony and equilibrium. Not always easy, with the constant barrage to which we are subjected these days. All the more reason we must make conscious choices to activate our highest states of being. The powerful vibrations of these bowls facilitate this evolutionary shift in a most elegant, expedient, and blissful way.
If you feel drawn to this, or are just curious what this is all about,
please contact me to schedule a private or small group session.
For more information about the next singing bowls event, or to discuss hosting one in your area, please contact us.
---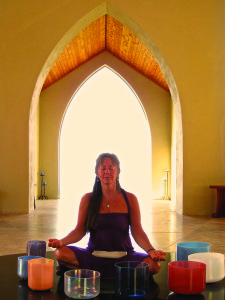 PRIVATE SOUND HEALING SESSIONS
"A problem cannot be solved
at the same consciousness level
in which it was created."
               -Albert Einstein
---
  To discuss or schedule a private session, please contact Nancy here.
---