---
17th ANNUAL WORLD SOUND HEALING DAY EVENT!
CRYSTAL SINGING BOWLS
Toning, Guided Meditation/Activation
                                                                
A powerfully joyful, deeply renewing experience.
During these times of great change and upheaval, it's imperative to keep choosing love, to keep raising our vibrational levels to maintain a state of harmony and equilibrium. The powerful vibrations of these bowls facilitate this shift in a most elegant, expedient, and exquisitely blissful way.
If you feel drawn, or are just curious what this is all about,
please join us.  I can assure you, you'll be glad you did. 
THURSDAY, FEBRUARY 14, 2019 7:00 – 8:30pm
UNITY of the VALLEY – 39th & Hilyard St., Eugene
541-345-9913
$20 donation at the door.
(No one turned away.)
To discuss hosting a singing bowls event in your area, please contact us.
---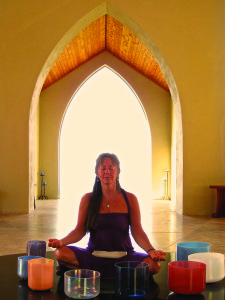 PRIVATE SOUND HEALING SESSIONS
"A problem cannot be solved
at the same consciousness level
in which it was created."
               -Albert Einstein
---
  To discuss or schedule a private session, please contact Nancy.
---