Alchemical Crystal Singing Bowls
Toning, Guided Meditation/Activation
with Nancy Hopps  
A powerfully joyful, deeply renewing experience.
During these times of great change and upheaval, it's imperative to keep choosing love, to keep raising our vibrational levels to maintain a sense of harmony and equilibrium. Not always easy, with the constant barrage to which we are subjected these days. All the more reason we must make conscious choices to activate our highest states of being. The powerful vibrations of these bowls facilitate this evolutionary shift in a most elegant, expedient, and blissful way.
If you feel drawn to this, or are just curious what this is all about,
please contact me to schedule a private or small group session.
For more information about the next singing bowls event, or to discuss hosting one in your area, please contact us.
---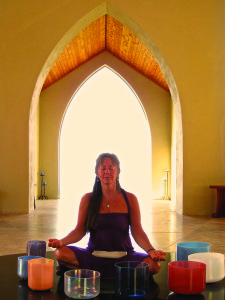 PRIVATE SOUND HEALING SESSIONS
"A problem cannot be solved
at the same consciousness level
in which it was created."
               -Albert Einstein
---
  To discuss or schedule a private session, please contact Nancy here.
---