---

I remember many years ago talking to a very spry 97 year-old woman and asking her what her secret was.  "KEEP MOVING!" she replied, emphatically. "Just always keep moving!"
Now a (young-ish!) "elder" myself, I realize firsthand how "right on" this advice was.  I feel fortunate to have been a gymnast in my younger years, and active in dance, sports and other physical endeavors, so it's second nature to me to stretch and move my body.  But what used to be effortless sometimes now takes a bit more discipline to put into practice!
A little personal aside, that may be relevant for some readers: I am happy to say, after almost a decade of much trial and error, research, good and not-so-good advice….and a LOT of tenacity and self-discipline, I have come to a good working relationship with my bone-on-bone right hip joint, and am several years (as of this writing) past when I was told I would absolutely need a hip replacement.  I hasten to add – I'm very happy the option exists, and may well go that route someday, but for now I am thrilled to have learned as much as I have in recent years about the intricate workings of my musculoskeletal system, and deepened my experiential knowing of how phenomenal our body/mind system is. My awareness level and mindfulness in each moment has deepened considerably, due to the "gift" of my arthritic hip. I share this now in hopes it may encourage listening to your own body's wisdom, whatever it may be wanting to tell you!  And…to keep your body moving, no matter what! 
Currently, I teach EDGU and CoreYoga+™ classes when I'm in town, not only because I love sharing the joy and benefits of these workouts with others, but also because it fascinates me to keep deepening my awareness of form, subtlety of movement and the wonders of these amazing human bodies in which we live and move and have our being.  Not to mention, it's fun, feels good, and has innumerable side-benefits, like increased energy, vitality, more restful sleep, feeling and looking younger, and a greater overall sense of well-being…such a deal!!
(Note:  I also do Private Coaching – see below!) 
---
WHAT IS EDGU?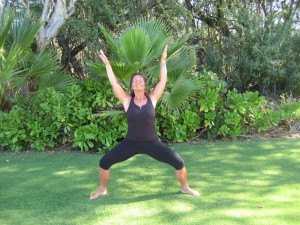 EDGU (pronounced "Edge-you") is a unique moving meditation, facilitating well-being and balance of body, mind and spirit. Easily tailored to individual needs and fitness levels, it can range from a mild to fairly challenging physical workout. It can even be adapted to be done in a chair!
*Physically, EDGU promotes spinal flexibility through a series of graceful, pivotal upper-body movements. Grounded in an open stance position, this rhythmic process exercises and aligns the spinal column, releases muscular tension, gently mobilizes joints in the upper body, and stimulates circulation. Many (myself included!) have experienced profound healing from back, neck and shoulder injuries via EDGU's gentle, yet uniquely effective series of movements.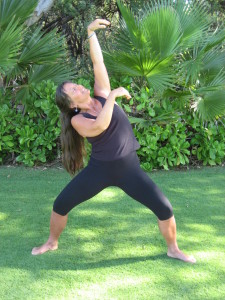 *Mentally/Emotionally, EDGU focuses the mind, balances the left and right hemispheres of the brain, and helps bring you into the peace of the present moment.
*Spiritually, EDGU is designed to open each of the chakras, allowing for an increase in overall energy (or "chi"), as well as a greater sense of clarity, insight, and well-being.
Simply put, EDGU is powerful, amazing stuff!  I've been teaching EDGU since 1998, and I continue to whole-heartedly sing its praises. In addition to the standard EDGU sequence, I also incorporate gentle stretches, visualization, mindfulness and breathing techniques into the process, deepening the experience of peace, balance and clarity that EDGU facilitates.  You will come away from this simple, yet powerful sequence feeling centered and refreshed, with a smile in your heart. 
Here's how a few of my EDGU students describe their experience:
EDGU and Nancy have both been such a gift in my life. EDGU is unlike anything I have done before and I love it because it allows me to work on my body, mind and spirit in a very unique way. It offers me a practice of clearing, letting go, aligning, recharging and receiving, all while strengthening my body, and my mind. Nancy herself is a beautiful, heart-full teacher, gentle and knowledgeable and not to be missed! Having her EDGU DVD throughout my many life changes has proven to be an "essential" in my tool kit. I am SO grateful for the continued opportunity to practice with them both!
— Stacie Haus 
Click here for more comments
I take EDGU with Nancy for many wonderful reasons. The exercise is simple to understand and follow, and is a complete physical, mental, emotional engagement. Having the option of taking the form to a more challenging level, by taking a deeper stance, and rotating more fully and quickly, rather than more slowly and gently, creates an invigorating as well as nourishingly fluid class. The movement aligns and opens my spine, hips, shoulders and neck like no other exercise I have done.
The spiritual components in EDGU are the highlight. Nancy conveys ease and comfort as she teaches. and demonstrates great healing ability in her use of voice and dialogue to guide the meditative experience. Using her beautiful talent and sincere heart, Nancy takes you on a journey through orchards, oceans, and rainbows to release blockages, cleanse and balance your chakras, and fill your heart and day full of color-full healing Energy. I am so grateful for Nancy and her class and for their effect on my quality of life. And I'm SO glad she can now share her gifts via her DVD, to bring the healing power of EDGU to many others!  Thank you so much. Blessings, and Namaste!—Joey Johnson
I decided to try EDGU as it was one of the few things offered at the YMCA at a time I could attend before going to work. That was well over a year ago and it is now one of the bright points in my week. Combining exercise and visualization I find it stimulating and relaxing at the same time. I particularly love that I can do it with eyes closed while Nancy's supportive voice guides the way. I enjoy just following along to the visualization as Nancy speaks it in class and have not committed it to memory. Nancy has a DVD which mirrors the class and so provides the opportunity to do EDGU in the same luxurious way anywhere a DVD can be played. The DVD is also helpful for clarifying how certain moves are done. One unexpected benefit of this practice for me is noticing a general improvement in my balance. I wholeheartedly recommend giving EDGU a try. —Nancy Wallace
Nancy brings her gift for sharing deep love and acceptance of who you are to the practice of EDGU.  My time spent with Nancy in EDGU has been deeply healing and inspiring to my life in many ways from working through depression and anxiety to learning to love and accept myself as I am. I also began to grow and develop my sense of connection to a higher purpose and to my higher self as student of Nancy's EDGU class. This was not an overnight process but I do know that my years of EDGU practice with Nancy, have been highly beneficial. I'm so glad there's a DVD available now, so others far and wide can benefit as well! —Tina Powell
I have been privileged to practice EDGU with Nancy for many years.  I was delighted when her EDGU DVD became available because it allowed me to continue the physical and spiritual part of the practice at home.  I have given her DVD as a gift  to several friends who have found it very valuable as well. —Linda Meyer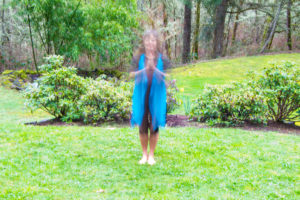 You may even feel rather…"ethereal."
(Above photo taken by student Joey Johnson, right after an EDGU session!) 
For a current schedule of my EDGU classes, please see my Upcoming Events Calendar. 
For information, or to order my EDGU DVD, please visit Products/Store
---
WHAT IS CoreYoga+™ ?
CoreYoga+™ is a synthesis of hatha yoga and core strengthening (Pilates-type)  exercises, designed to promote flexibility, strength, stamina and balance, with awareness, breath and relaxation elements integrally interwoven into the entire workout.
All of my classes, whether in my home studio at The Healing Sanctuary, or elsewhere, are based on what I call "The ABC'S" of a Mindful Fitness Practice: Awareness, Breath, Core-Strengthening and Stretching.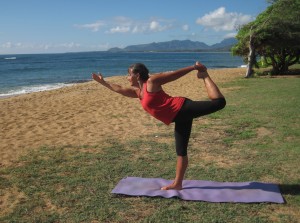 In class, while we're holding a balance pose, or stretching, I will often be heard to ask my students, "And what else are we doing while we're doing this?"  To which they're well-trained to answer…(can you guess?)….."Breathing!"
Awareness and breath are essential to a good BodyMindSpirit workout. So is laughter, in my book!  Although, in any given class, there are moments of deep reverence and stillness, and moments of just plain hard, grunting work, there is also a prevailing attitude of fun.
I attract students of all ages and fitness levels, and love to help students learn to honor and work within whatever their present fitness level may be. Here are a few comments, first from the head of Health and Wellness the our local YMCA, then below it, from some of the wonderful folks in my Healing Sanctuary (home studio) and other classes:
Nancy has given her time, passion and purpose to the members of Eugene Family YMCA for nearly 20 years, much of that time as a volunteer. She taught step and dance aerobics in years past, and currently teaches CoreYoga/Pilates and EDGU.
Taking classes from Nancy is a pure treat. She has such a way of making each person in the room feel comfortable, safe and supported. She leads her classes in a skilled and heartfelt way that touches your heart…. gently warming you into a powerful, impactful workout, then guiding you back into a place of deep relaxation and contentment.  Students always leave feeling much better than when they arrived!
—Kari Porter, Director of Health & Wellness, Eugene Family YMCA
Click here for more comments
One of the reasons our neighborhood is such a jewel, is the ongoing yoga+ classes Nancy offers at the Healing Sanctuary. What a luxury it is not having to get in a car! When Nancy works us hard, we find laughter a great way to persevere. Personally, the focus on abdominal/core work combined with gentle stretching has kept my mild scoliosis symptom-free. In her classes I have also come to know, respect and love my neighbors as we bear witness to one another's ups and downs, challenges and celebrations over the years. Thank you with my whole heart, Nancy. —Genie Harden
Nancy's yoga+ classes are the best thing I've done for my forty-year-old body. The fact that I can count on two evenings a week of motivational deep breathing and muscle stretching and toning is key to ensuring I have a productive work week. Getting old is way easier having Nancy Hopps in my life. We are very fortunate to have her in the neighborhood! —Heidi Branchesi
Taking yoga with Nancy is challenging, sweat inducing and fun. She brings a wealth of experience, training, understanding and patience to her classes. Nancy is a wonderful teacher for the novice or the long time practitioner. Whether you are just getting off the couch or looking to get even stronger and more balanced in heart and soul, I recommend Nancy without reservation to be your guide. She is a rare treasure. —Rebecca Nachision
I love that Nancy's CoreYoga+ class is refreshingly real. I come away with a sense of peace and a sense of community that comes from having fun with others. It's about balancing physical exertion, breath, laughter and relaxation. Nancy makes that all come together magically. —Jennifer Rice
With Nancy's heartfelt guidance, I leave class feeling renewed, refreshed, and stronger (mentally and physically.) The exercises/movements are a perfect combination of strengthening, stretching, meditative, and deeply relaxing.  I'm really grateful…." —Jamie Gaber
Thank you Nancy for the rewards I feel both inside and out.  Even though my facial expressions may not always show it during an "abs" session, when I leave I am smiling from head to toe. You are such a blessing to us all.  Namaste. —Gina Carroll
For a current schedule of my CoreYoga+ classes, please see my Upcoming Events Calendar.
---
PRIVATE COACHING
Need a little extra boost to get started on a regular, customized workout program?  Is yoga something you've always wanted to try, but a class full of people who can sustain pretzel-like poses feels a little (or a lot) intimidating?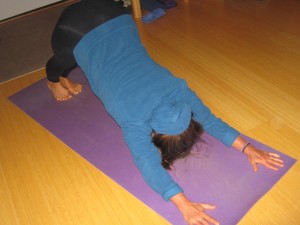 I can work with you to help tailor a program that fits your specific needs, keeping in mind your lifestyle, fitness level, and goals. 
I'm a stickler for good form. That doesn't mean pretzel poses. It just means doing whatever level of movement you're doing, with awareness and proper positioning.  Cultivating good, conscious awareness of your body as it moves through various stretching, strengthening and balancing exercises makes a world of difference, both in your on-going enjoyment of your practice, and in your ability to not injure yourself.
I've worked with people for just a time or two, or on a more extended basis, depending on need and desired results.  If you live in the Eugene area, feel free to contact me to talk further, if you think this might be of interest to you.
(NOTE: I live in Eugene, OR, but also travel frequently with my crystal singing bowls performances.  I usually book a limited number of private sessions while in a specific locale.  So check my schedule, and if I'm in your neck of the woods, we might be able to work something out!)